THREEEEEEE...Sparkly Snowflakes!!!! :o) On 3 canvas wall hangings. Oh Im just so glad you're here! On our happy Christmas in July blog hop!!! For my project I have created these 3 sparkly creations. If you have just happened along here and want to join in the fun.....hop over to
Kinderstampo
and join our fun!!
Now, I've used some wonderful paper from TPC Studios, they're so swirly and sparkly....I've cut these gorgeous sparkly snowflakes out with my Slice machine (LOVE THAT THING!) out of some glitter paper. Those fabulous letters are from American Crafts Thickers, last year's Christmas stuff.
Now, I hope you are enjoying our HOP!! The next stop for you is...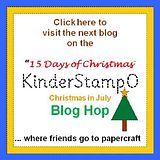 Now....I will also be offering some Christmas in July goodies!!! A gorgeous Changito stamp set and some ribbon and blingage! to one of my commenters. Ireally hope you are enjoying yourselves!!
Merry Christmas!!!!
Cheri